Elizabeta Kostadinovska
is a multilingual poet, writer, interdisciplinary artist and multimedia performer ::
(aka Lindner) translator, editor of this online-magazine, publisher at the small press with the same name – known for the Book Series SlovoKult :: Slovoteka – selected poetry and art – and artistic director of the biennial of contemporary arts :: SlovoKult :: literARtour
:: Bio-Bibliographie :: SlovoKult.de :: Deutsch – Literaturport.de :: English – Literaturport.de
Videos :: Elizabeta Kostadinovska@Youtube :: @ Vimeo
sorting thoughts, working on an application for the event series SlovoKult :: literARTour – that will be the new form of the Biennial SlovoKult :: LiterARTour :: 
AND: writing on a long poem in German, planed to be published in 2023 :: Sprachspiele auf Schachspielbrett, granted by the Akademie der Künste, Berlin (see grants). 
preparing selected short stories in Macedonian from 1995 till today including originals, reconstructions and translations from the German, Систем на сетилности, to be published 2023 for Antolog, Skopje, if we are lucky with grants and time to manage life and art.
experimenting with multilingual polyphony with experimental and "normal" poems in Multimedia Poetry + Noise Performance… alone and with collaborations, like the new project Wortschmerz ‡ noisedestotrotz (#1 with Seht Zhan, aka Chirstian Zahn or Setherian), see down at LIVE PERFORMANCES some documents in Youtube. 
organizing some promotion for  SlovoKult :: Slovothek  Skopje and Berlin 2023 – see down –
making my own page and collecting material for the next :: Poem and Picture :: SlovoKult- visual + sound Artist for a video. We have very special videos to see on :: SlovoKult :: Youtube channel :: 
HAPPENING IN FEW DAYS ::
:: FROM THE LIFE BEFORE :: 
2016 :: 2017 …
:: PUBLICATIONS ::
Poetry + Art collection :: 
Zweisprachiger Gedichtband :: DE/MK + Kunst :: 
Zweizählig zu Besuch bei dem endlosen Abgrund ::
Art Equilibrium + SlovoKult, 2020
:: in German anthologies ::
Gedicht und Kurzgeschichte, Rrrr, Gisela Verlag Regensburg, 2018
Essay, Okkulte Kunst, Hrsg. Alexander Graeff, transcript Verlag Bielefeld, 2019
:: ART :: KUNST ::
:: Art Series ::
1. Volksbühne :: collages with text :: since 2013
2. The Deconstructed Novel :: bilingual :: since 2017
:: AKTUELL :: 
:: 2023 ::
:: LIVE ::
LIVE :: 23.05.23 
Video invitation/Einladung :: SlovoKult :: Closer #2

:: Video exhibition with artworks by :: Videoausstellung mit Kunstwerken von ::
:: SlovoKult artists/Künstler:innen ::

:: LIVE :: text/poetry/ :: in bilingual+trilingual polyphony

Britta Avalon Kagels :: German/Deutsch
Jevgeniy Turovskiy :: English/Englisch + 
Elizabeta Kostadinovska :: Deutsch/German + Macedonian/Mazedonisch + English/Englisch
English voice / Englische Stimme :: Walter Eaves

:: Sound ::

Edith Steyer
Margaret Unknown 
Mo_o17

+

Wortschmerz ‡ noisedestotrotz #2

NEW collaboration :: premiere here

E. Kostadinovska + Margaret Unknown + Mo_o17
multimedia poetry perfomance
bilingual + multilingual polyphony
State of Art :: German + English
Raum. (Space.) :: German + English + Macedonian + Italian

+

happy ending with visual punk, post punk, industrial :: dancing allowed ::



:: Book Review in German :: 
:: Eine erfreuliche Buchbesprechung meiner Poesie :: Ladylike und kotzend… 
:: Stefan Heuer :: über
 Zweizählig zu Besuch bei dem endlosen Abgrund :: für Signaturen-Magazin ::
Link :: Signaturen-Magazin
Und zu diesem Anlass :: als Frühjahrsangebot ::
Der Gedichtband als PDF ::  7 Euro :: 
Link :: SlovoKult :: Shop 
Oder als Buch in den Buchhandlungen :: Buchkönigin, Neukölln (bald mehr!)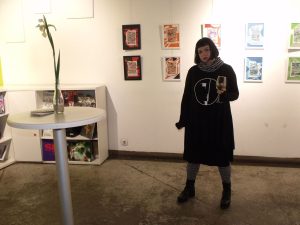 :: six years ago :: ⇒ PHOTO GALLERY :: Solo Exhibition :: From Berlin to Skopje :: Mai 2017 at Concept37, Skopje, Macedonia :: awarded as :: Art Prize by Paratissima Skopje and Concept37 :: 2016
behind me (10 of) :: the first 13 works – pre-works for the bilingual art series :: The deconstructed novel :: Die Leinwand/Платно/The Canvas von/од/by Benjamin Stein (German+Macedonian) :: 



My Artwork Vegvisir :: 2022 :: 
from the bilingual serial :: 
The deconstructed novel The Canvas by Benjamin Stein 
participated in :: 
Osten Biennial of Drawing 2022 :: 
Exhibition at the National Gallery Cifte Amam, 
Skopje, Macedonia :: February 2023 :: 
:: Elizabeta Kostadinovska und SlovoKult auf Poetry Expo 23 ::

:: Elizabeta Kostadinovska and SlovoKult are participating in 
Poetry Expo 23 :: by Versopolis







Beiträge :: Elizabeta Kostadinovska at Poetry Expo 23 

my presentation :: Elizabeta Kostadinovska at Poetry Expo 23 



Und wir gehen LIVE in Berlin :: And we go LIVE in Berlin :: 

16.03.23 :: Laidak, Neukölln :: Program in English + Deutsch :: 

:: ENGLISH :: we are very pleased that SlovoKult :: 
with contributions from the Biennial SlovoKult :: literARTour 2020, 
as well as poetry art videos - and Elizabeta Kostadinovska 
with several contributions - will participate in 
Poetry Expo 23 by Veropolis . 
Celebrating: Our contributions but also other live performances and collaborations 
with authors and artists will be continued and presented in the new event series 
SlovoKult :: Closer. :: we invite to the

#1 on 16.03.23 from 19:30 in LAIDAK, 
Boddinstraße 42, 12053 Berlin:: the FB event ::

:: 2023 :: März/March
Meine neue Kolumne :: My new Column 
Selbstbefragung :: Self-Inquiry
:: 2022 :: 
21.12.22
In the new issue of Counterpoint 8 :: the CEATL'European translator's e-zine, on pages 30-33 you will find a text by Elizabeta Lindner (SlovoKult founder) about translating poetry through learning a new language :: as well as for the specialty of multilingual polyphony which is part of the concept of the contemporary arts biennale :: SlovoKult :: literARTour 
In der neuen Ausgabe von Counterpoint 8 :: herausgegeben von :: Conseil Européen des Associations de Traducteurs Littéraires, finden Sie auf den Seiten 30-33 einen Text von Elizabeta Lindner über das Übersetzen von Poesie durch das Erlernen einer neuen Sprache :: sowie über die Besonderheit der mehrsprachigen Polyphonie, die Teil des Konzepts der Biennale für zeitgenössische Künste :: SlovoKult :: literARTour
:: LIVE PERFORMANCES ::
:: 2022 ::
the name of the new project for collaborations between
Elizabeta Kostadinovska and a sound artist(s) ::
#1 with Seht Zhan :: 
November 19 at xxxTeR, Berlin
July 15 at GARAGE, Berlin
June 18 at West Germany, Berlin
:: SOLO ::
February 26 at the Basement :: SlovoKult special :: Dance out of now! :: Dance this! #3 ::
:: 2021 ::
September :: SlovoKult goes Latvian :: Riga, 1983
Oktober :: SlovoKult special and birthday :: Berlin, Hosek Contemporary
27.03. :: 

SlovoKult :: literARTour (stream),

 ACUD-Theater Berlin
:: 2020 ::
SlovoKult :: literARTour
:: December :: ACUD-Theater Berlin :: stream
:: September :: 04. Gevgelija :: 07. Skopje :: open air
:: June ::
:: 2019 ::
(will update soon)
:: 2018 ::
SlovoKult :: Gevgelija, Skopje, Berlin
Prolog at Kule
(will update soon)
:: 2017 ::
01.12.17

Am 09.12.17 @ 10 Jahre Prolog + Buchrelease Prolog X7 
präsentiert sie ihre neue::
Text-Bild-Musik-Traum-Tanz Perfomance::
Kubus, unsre Form. traum urban. Inkubus, Sukkubus::
 
19. Februar :: Literatur in Weißensee @ Brotfabrik :: Berlin
:: Alexander Graeff :: host and author
topic :: Mystik

poetry, short prose
experiment fun
multimedia dance
:: SlovoKult::Literatur/a ::
:: Collagen mit Text :: Collages with text ::
Vanitas, Collage mit Text, 2014 (für Igor Isakovski)


Collage mit:: Flugzeug-Vogel:: von Boshko Bozadzievski::


Collage with:: Airplane-Bird:: by Boshko Bozadzievski
:: Gedicht und Gebilde :: Poem and picture ::
:: Experimentelles Gedicht mit Tanzperformance ::
08.03.18
Gedicht zum Internationalen Frauentag::auf Englisch::
::gendering the german language::
Mit einem Bild von Doroti Pačkova::
::29::