10.00€
ISBN :: 978-3-946538-23-3
SlovoKult :: Literatur/a :: Berlin (Deutschland)
Herausgeberin/Editor :: Elizabeta Lindner 
Gestaltung/Layout :: Dijana Tomik Radevska
Titelbild/Cover :: Katrin Salentin (Festival poster)
A5 :: 80 :: Seiten/Pages :: Farbe/Color ::
Printed in Germany :: wir machen druck
Postage/Porto :: Germany/Deutschland 2,30/2,90 Euro (Prio)
Europa/Europe (EU) :: 3,70 Euro
Beschreibung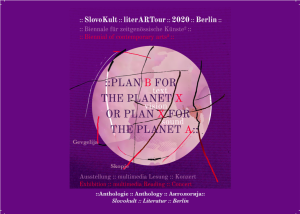 Anthologie der Biennale SlovoKult :: literARTour :: mit Texten und Bildern der Teilnehmer:innen 2020 :: Mehrsprachig :: Deutsch :: English :: Македонски :: Srpski :: Bosanski :: Hrvatski
Anthology of the Biennial SlovoKult :: literARTour :: with texts and pictures of the participants 2020 :: Multilingual :: Deutsch :: English :: Македонски :: Srpski :: Bosanski :: Hrvatski
+ Festival poster :: A3 :: design/Gestaltung :: Katrin Salentin
DE :: Das Lesen wird eine Kombination von der Anthologie und unseren Online-Inhalten sein. Ob Textfragmente oder andere Sprachen, alle Ergänzungen wird man dann in der Online-Zeitschrift finden. Mit dem Kauf der Anthologie und unseren anderen Publikation, unterstützt Ihr unabhängige Kunst außerhalb des Mainstreams und somit hilft der Erhaltung der nicht-kommerziellen Kultur – bzw. ihr unterstützt das Weiterleben dieser Online-Zeitschrift sowie die Fortsetzung der Arbeit an zukünftigen Publikationen und Veranstaltungen :: DANKE!
EN :: The reading will be a combination of the anthology and our online content. Whether text fragments or other languages, all additions will then be found in the online magazine. With the purchase of the anthology and our other publications, you support independent art outside the mainstream and thus help the preservation of non-commercial culture – or you support the survival of this online magazine and the continuation of our work on future publications and events :: THANK YOU!
Unterstützt von/Supported by :: Senatsverwaltung für Kultur und Europa 
Partner in N. Macedonia / N. Mazedonien :: Art Equilibrium
:: mehr Eindrücke / More impressions at ::  YOUTUBE Festival-Kanal/Chanel 
oder/or :: Teilnehmer:innen/Participants :: Berlin 2020
Klangkünstler / Soundartists :: TAPE :: Toni Dimitrov :: poesi fysik :: JD Zazie :: CNM
:: Klick auf den Namen :: Click on the names ::
Kunstwerke :: Artworks by :: Anton Schwarzbach, Dorit Trebeljahr, Eike Laeuen, Michaela Strumberger, Elizabeta Kostadinovska, Irena Paskali, Aude Carbone, Slavica Janešlieva, Zvonimir Žernovski, Ivan Ivanovski, Nina Geštakovska Cvetkovska, Marko Vujisić, Dijana Tomik-Radevska.
Texte :: Texts by :: Maroula Blades, Josip Kocev, Anja Kümmel, Istok Ulčar, Faruk Šehić, Marija Grubor, Alexander Graeff, Sanja Mihajlovic-Kostadinovska, Ron Winkler, Marija Dejanović, Gundula Schiffer, Aleksandar Kirkovski, Manuela Zlatkova, Thanos Gogos, Vladimir Lukaš, Crauss, Elizabeta Kostadinovska :: In Memoriam – Liljana Dirjan, (+13.12.2017), Sean Bonney (+13.11.19), Gorana Mitrović (+06.09.2017) ::
With translations :: mit Übersetzungen :: Elizabeta Lindner, Ksenija Čočkova, Mark Kanak …